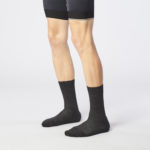 Fingerscrossed – #Merino
€29,90
Enthält 16% Mwst.
Lieferzeit: ca. 10 Werktage
High performance cycling socks
FINGERSCROSSED winter socks are ideal for the winter months and early spring. Made in Germany by a family-run business specialised in merino socks for 3 generations.
The area of the toes, heel and sole are padded with a plush terry fabric, designed to keep the feet warm and protected. By using 90% merino wool, 7% polyamide, 3% elastane we offer the perfect composition to create both insulation and comfort. Moisture is successfully transported to the outside, thereby keeping your feet dry and tempered.
It is our goal to create the perfect socks for the cold winter months. The use of extra material means the shoes fit tighter. After a period of the time the terry fabric will set and adapt both to your feet and your shoes.
SPECS
MATERIAL
90 % Merino
7 % Polyamid
3 % Elastane
COLOUR
Anthrazit

SIZES
36-37
38-39
40-41
42-43
44-45
46-47